យុទ្ធនាការពិសេសក្នុងខែឧសភា ឆ្នាំ២០១៩!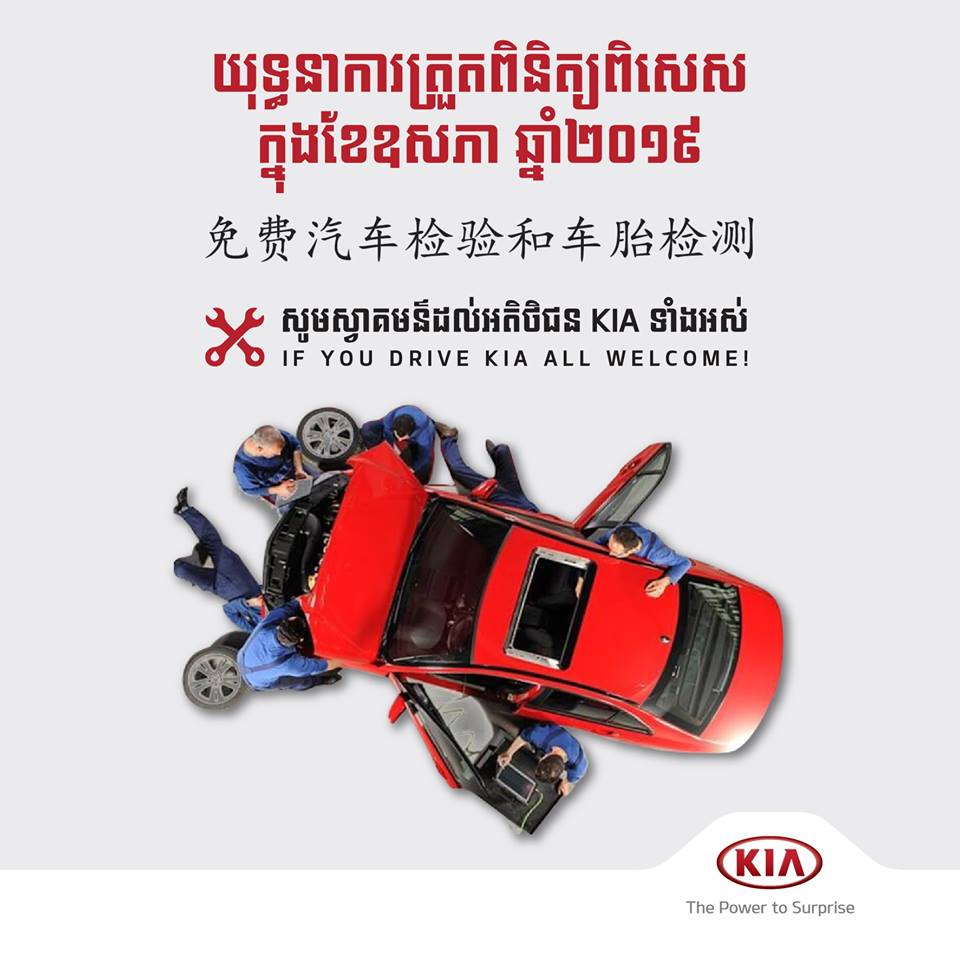 យុទ្ធនាការពិសេសក្នុងខែឧសភា ឆ្នាំ២០១៩!
សូមស្វាគមន៌ដល់អតិថិជន KIA ទាំងអស់ជាមួយនឹងការត្រួតពិនិត្យរថយន្តដោយឥតគិតថ្លៃដូចខាងក្រោម ៖
- ត្រួតពិនិត្យផ្នែកទូទៅដោយឥតគិតថ្លៃ
- ការថ្លឹងកង់រថយន្តដោយឥតគិតថ្លៃ
- សម្រាប់គ្រប់ម្ចាស់រថយន្ត KIA
សូមកក់ទុកជាមុន ១ថ្ងៃ
ព័ត៌មានលំអិតសូមទំនាក់ទំនង 095 333 541

为了欢庆起亚KIA在柬埔寨5周年, 所有的KIA 业主获得一次免费的车子检查和车轮校对服务!

不要错过这千载难逢的机会!

免费体检服务, 请预约 @ 095333541,

此优惠适用于柬埔寨的所有 KIA 车主(官方或非官方旗舰店购买的车子)赶紧预约以免向隅!

Dear KIA owner
To celebrate KIA 5th year anniversary in Cambodia, all KIA owners are invited to get a FREE general checkup and FREE wheel balancing and alignment! Don' t miss the chance! For free check-up service, please make an appointment @ 095333541
Offer available for all KIA owners in Cambodia, including cars purchased outside KIA official showroom.